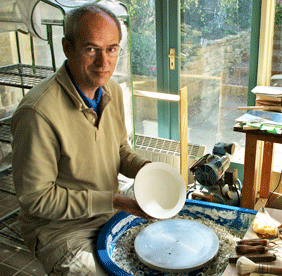 I was introduced to ceramics at Batley College of Art and Design where I studied on the Foundation course between the years 1973 – 75. From there I specialised in ceramics on the B. A. Hons Three Dimensional Design course at Loughborough college of Art and Design, 1975 – 78.
I moved to Brighton in 1979 to qualify as a teacher and taught in the area for some ten years, married and had two sons. I now live in Northamptonshire with my family and where for eighteen years I was the Head of Design and Technology at an Upper School in North Bedfordshire.
When I graduated from Loughborough college of Art and Design I exhibited and sold my work at Batley Art Gallery in a three-person show. Whilst in Sussex I produced individual stoneware slab form ceramic pieces and during my last year there I exhibited and sold work in the Hugo Barclay Designer Connections Gallery in Brighton.
Having given my time to a career in teaching, raising a family and building our home, I now teach only part time and have returned to producing individual pieces of pottery. My current work is in porcelain, which is hand thrown. I also make stoneware slab pots.
One of my fondest memories of studying at Loughborough was the time spent with David Leach who, as a visiting professional, instructed in the craft of wheel thrown pots; we later visited him at his studio and also Colin Kellam in Totness. These experiences strongly influenced and informed my values and beliefs. Form, function and craft are equally important to me and whilst I strive to create finely made pieces that are pleasing both visually and to hold, they are also functional. Harmony and purity of form are central to my current work, inspired by natural forms, as well as the attraction and challenge of mastering the skills necessary to achieve such simple looking pieces.
My slab-pots are constructed and decorated solely by hand, using black slip, glaze and gold lustre. Each piece is the result of many hours work and numerous firings. The inspiration for this work is derived from the study of natural rock forms and architecture, which I am developing within the basic form of a geometric vessel where the juxtaposition of line, shape and form are explored.